I started building gardens because my mom has always been a big gardener, and I never wanted to do all the upkeep it takes, but I love planning and building things. So I started building new garden areas for her to plant and upkeep. It meant I got to do what I love, and she got to do what she loved, so everyone was happy! (Dad went along with it, since he likes figuring out how to build things, too!) I started about 20 years ago by building a couple of ponds and designing walkways for the back yard, then made a rock wall about 2 years later that used about 13 tons of rocks, and just kept going. I do a lot of the planning and physical labor, with Dad helping with problem areas. So for this entry, I'll describe the first half of building a terraced garden on a steep hill at the back of the property. One thing I always do is use whatever we have around to build with, so that we buy as little as possible. I think it also makes the finished product look more natural. So this garden started with a really overgrown hill about 20-25 feet down and about the same across. First the ivy and undergrowth had to be cleared, which was done by pulling it all up by hand. We really hate to use poison, and ivy will actually come up pretty well by just pulling it up. I'll confess, I didn't do this part (thanks Mom!).
After that, I planned out where the logs would go for terracing. For pictures of this process, check out my Gallery page, and you can get an idea of how steep and big this space is. There was a lot of precarious balancing when I was digging in the first places for logs. Once I had a platform dug for a log, I rolled or moved it down from above, and then put in rebar to hold the rest of the logs in place. Generally, I did 3 or 4 logs up to create a terrace. Once these spaces were created, I threw down dirt from the top to fill in the new space. There were also some small terraces I created to have smaller areas to plant down the hill. One of the things I like to do is look at the shape of the space, and work with it. I don't try to force my own design on the land, but just look at what is already there, and make it a little easier to plant. I also built a staircase from old pieces of slab concrete, some of them from when my parents moved into the house (my dad grew up on a farm, you don't throw away useful stuff😉). For the staircase, I dug platforms into the hillside, starting at the top, put one of the slabs in place, then worked my way down the hill, building stairs as I went. I would slide the heavy concrete pieces down beside the staircase as I got further down, some of the bottom ones were probably about 100 pounds.
Once all of the stairs were in place, I built some more terraces along the side for planting areas. The final addition was putting in the railing about 6 months later, using uprights driven into the hill, and screwing on tree limbs from fallen trees to create the rail (Dad does the drilling; at under 5 feet tall, I have some problems with leverage!). It worked out pretty well!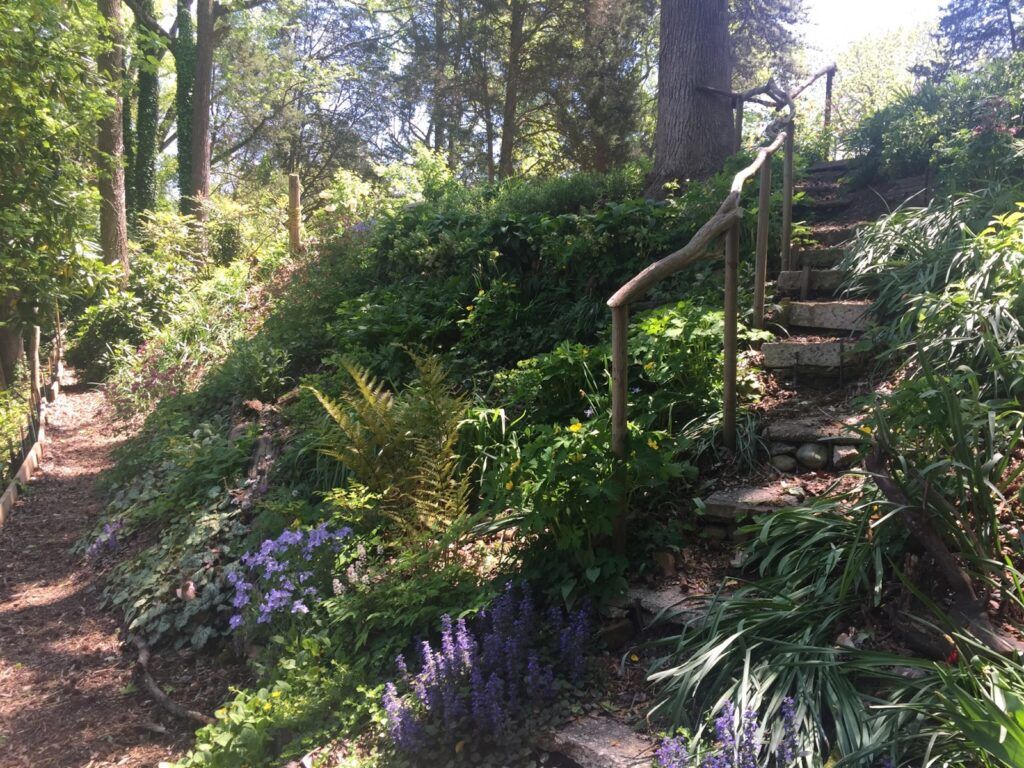 If you are considering doing something like this, the main thing to keep in mind is to plan, plan, plan. It is a lot easier to adjust what you want to do later, if you have planned the steps to get there from the start. 'Winging it' rarely works out well, or at least involves a lot of cursing!