True confessions–I will never review a book I dislike. I don't really see the point in writing up a bad review, I just won't suggest the book! These are books I have really loved over the years. Some are books I have read more recently, but a lot of them are books I have always loved, and may have read a long time ago. This will be a very eclectic group of books, some fantasy, history, linguistics, nature, so-called 'young adult' (I don't really agree with the idea of a young adult book, I think anyone can read them!), and any other subjects that catch my interest. What I don't read a lot of is the popular fiction you will see on the best seller lists; there are already plenty of reviews for them! So if you see a review here, it will almost never be rated lower than a 3 or 4 star, and that means it has some good points, but I probably won't read it a second time. Since I like to re-read most books I like, that is as bad a review as I will give. I hope you find something that appeals to you, and maybe something you haven't heard of, but is worth giving a try. Happy reading!
---
---
Magician
Summary
In a strange realm of princes, priests, soldiers, and soothsayers, young Pug, apprenticed to a master magician, becomes embroiled in a war with another galaxy and strives to save his world
Review
This is one of my favorite books, part of a trilogy called The Riftwar Saga. Since publishing Magician in 1982, Raymond E. Feist has continued writing and publishing stories set in this world, but the first trilogy is the best. You can find the book Magician in two smaller sections, with the first titled Magician: Apprentice and the second Magician: Master. However, as long as you don't mind picking up the bigger book, I recommend just reading both together. Feist wrote in the Author's Preferred edition (which I also own) that this was the first book he ever wrote. I must say, he did a good job. In fact, I would say that he actually got a bit too wordy in later series, and lost some of the focus that his first trilogy had. Magician is followed by Silverthorn and A Darkness at Sethanon, both of which I also highly recommend. The second two focus a bit more on a number of the secondary characters in Magician, with the trilogy covering about 12 years of time. Still, Magician is the best if you only want to read one (and the others would make no sense if you started with one of them). The pacing is excellent, the character and world development are well done, and the story itself is tight, and doesn't wander around (which can be a problem with some fantasy worldbuilding). The world the story is set in is called Midkemia, which is connected to the world of Kelewan by magic. For those who may be hesitant about magical worlds, one thing to understand is that magic is generally treated as a different type of science. Good fantasy always has rules for magic, just like science has. Feist never forgets to stick to the rules he creates for magic, which is the sign of a good fantasy writer. For those who are used to magic in fantasy, know that this is one of the best.
This book gives the story of two young boys who are best friends, coming of age at the beginning of a war. The story follows them as their lives take two completely different paths, while weaving in a wide group of other characters that surround their lives as they change. The story starts with an introduction to Pug and Tomas, begining at the time they are being chosen for their apprenticeships at the age of 14. This also happens to be when a war starts in the Kingdom of the Isles (the country of Pug and Tomas), begun when Tsurani magicians from Kelewan discover a way to bridge the distance between the two worlds. This effort starts a war of conquest by the Tsurani, which takes place throughout the book. I won't give away much of the plot, and it is easy to look up more details if you wish. What I will say is that this is one of the more complete world-building efforts, and provides a lot of background while still moving the plot along. The books Feist wrote that extend this world take place after the events in this series, so you might want to try some of them out if you enjoy these. However, I felt that Feist has a tendency to get caught up in more and more pacing problems in the other books. Some are fine, but taken as a whole, I'll just stick with these first three for a recommendation. I will do a separate review on another trilogy set in the same worlds of Midkemia and Kelewan, but they are written with Janny Wurts writing together with Mr. Feist. Ms. Wurts has a very different style of writing (I have read books written solely by her, and they are very different in pace and character development). The combination of styles by Ms. Wurts and Mr. Feist make for a very good story, but one that feels a bit different than The Riftwar Saga. That trilogy happens concurrently with the Magician series, but on the world of Kelewan. They detail the same time that is covered in Magician, but through the eyes of a set of Tsurani characters. If you have ever thought to read fantasy but just haven't taken the plunge yet, Magician is a good, solid start in the genre.
---
Here Be Dragons
Summary
Thirteenth-century Wales is a divided country, ever at the mercy of England's ruthless, power-hungry King John. Llewelyn, Prince of North Wales, secures an uneasy truce by marrying the English king's beloved illegitimate daughter, Joanna, who slowly grows to love her charismatic and courageous husband. But as John's attentions turn again and again to subduing Wales---and Llewelyn---Joanna must decide where her love and loyalties truly lie. The turbulent clashes of two disparate worlds and the destinies…
Review
Sharon Kay Penman is one of the main historical fiction writers that I love to read. As someone who does research as a career, I have a lot of trouble reading historic fiction, or watching those so-called 'period' movies. Often, there are just too many reasons to adjust or dramatize facts to create a story that is easier to sell to a modern audience. That is not something that can be said about Penman's books, and she has published a total of 10 books. Here Be Dragons is the first in a trilogy about 13th and 14th century Wales and England. I will confess that I haven't read the second two books in this trilogy, though I have read others she wrote. None of these books have to be read in order, but they do build on the characters in each. Someone who wanted to read the two main series, The Welsh Princes and The Plantagenets, would have to love long books, because all of these are hefty, most over 700 pages. The first one I ever read was Here Be Dragons, and it is still my favorite. I even wrote a paper on the historical accuracy of this book as an undergraduate, and I can say with confidence that there is almost nothing fictionalized that can be known. What makes this fiction is Ms. Penman's ability to make the characters more than the one-dimensional creatures that are displayed in history, such as King John, probably the best know of the book.
One thing to remember about history is that it is always written by the victors. Ms. Penman does not take away from terrible things that were done by those in power, but she does make them human, and shows the progression of events that created their actions. The main character that Here Be Dragons focuses on is Joanna, a natural daughter of King John. (And yes, I was at first drawn to the book because we shared a first name! Though most historians call her Joan, Joanna is version that can be documented as well.) By picking someone who is less well known, Ms. Penman gains some freedom to take the story into the daily life of her characters and make them more human, without loosing the historic arc of the time period she is writing about. In this case, it is the last years of Welsh independence, before the arrival of Edward I and his complete conquering of Wales, which is the period that completes the trilogy. While this book is long, my feeling while reading it was there are no boring parts that feel like filler. The events just keep going, and you can easily get caught in the web of family intrigue, as well as difficulties and triumphs of the main characters. You will definitely get a different idea of King John than comes from Shakespeare or Robin Hood! And as I stated, if there was information to be found in historical accounts, Ms. Penman used all of them, so no one has reason to doubt the accuracy of the book. The 'fictional' part is to be found in the development of the characters and their thoughts and emotions, not in the actions they took or the events that occurred.
The other books by Ms. Penman, of which I have read 4 in total, are also very good, but if someone wants to try her books out, I recommend this one first, as it has remained my favorite. The Plantagenet series actually takes place earlier in time, and begins with the events of the White Ship, which was a tragedy in the 1100s that began the end of William the Conqueror's line of succession. I have read the first of that group, When Christ and His Saints Slept, but it does have some parts that drag a bit, and is a bit longer than this one. If you are intimidated by the length of all of these books, you could try her much shorter series called the Justin de Quincy Mysteries, but I cannot speak for them as I haven't read any of them. Unfortunately, there will not be any more published, as Ms. Penman died just this month on January 22 (I only discovered it as I was writing this review). Her last book was published in the UK two days before her death, and looks like it would have started a new series about the Crusades, called The Land Beyond the Sea. Rest in Peace, Ms. Penman.
---
The Unfolding of Language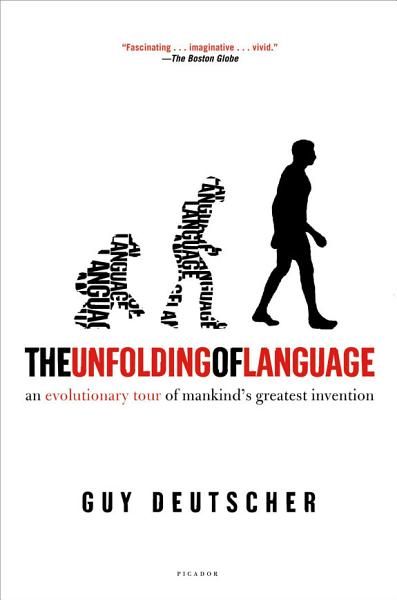 The Unfolding of Language
Summary
The elusive forces of creation at work in human communication are exposed in an investigation into how the destruction and creation in language are intimately entwined and how these processes are continuously in operation, generating new words, structures, and meanings.
Review
If you have any interest in language and its origins, this book gives a wonderful study of how something as complicated as language could evolve from basic building blocks. The author uses examples from many different language groups, but you don't need to be good at learning languages to understand the examples. I love reading about the changes in language, and I usually read those that describe the evolution of English (I am really not very good at other languages). I have read textbooks on the English language, so yes, I am a bit of a linguistics nerd. But this book is one of the better ones for making the changes understandable, without the reader having to understand the terms used in linguistics. It is easy to see that the author, Guy Deutscher, loves the study of language. I highly recommend this book as both an in depth study on language evolution, and also a very fun and interesting book to read.