This post is going to be about tomatoes – yes, it probably would have been better to post this in July or August, or better yet May, when tomatoes are planted in this area! However, I don't really do the planting and tending myself, I do more of the cooking. So for me, tomatoes are really more of an August crop, when I start to do a lot more cooking with them. (The first tomatoes are mainly for eating fresh, after the long months of having to settle for store-bought tomatoes. If that is all you have ever eaten, I feel your pain!) If you have read some of my earlier posts on gardening, you know I am not really the gardener of the family, that's my mom. She has planted a garden every year since I was 4 years old, and tomatoes have been grown every year. And I'm not talking two or three plants. Generally the number has only gotten higher over the years, and for the last 20 or so years, its been anywhere from 40 to 60 plants. Usually about 45 is the average, and this year it was only about 37 plants. Mom went on a 4 week trip out west this summer, so she decided to 'down-size' the garden. (I argued, I was over-ruled. I had to do some of the picking while she was away – not my favorite thing in late July!)
So when I say '*some personal experience' let me clarify that to say that I have seen how tomatoes grow since I was a kid, and I know the work someone else has done on a daily basis. What I don't do is the main planting and tending! But I have seen a lot of the experiments tried, and on this post I'll just share one – suckering – that is fairly easy to do, especially with just a few plants. It is also a great benefit if you are planting in a small area, because suckering helps contain the size of the plant. If you are interesting in reading more about the process, this link is a study done by Cornell University using the practice to increase yield. If you have grown tomatoes before, and never suckered them, you probably had a big plant with lots of leaves. At full size, they look like a leafy bush. Suckering prevents a lot of that leaf formation, so you will see the main stem of the plant the whole growing season. This has the benefit of allowing air to circulate, keeping moisture from causing disease, especially in areas of high humidity (hello, North Carolina). However, if you have never done it, the feeling early in the process is that you are going to either kill the plant or not have any tomatoes. I promise, done right, suckering will actually help with production!
---
---
When growing, a tomato plant will put out alternating leaves on each side as it grows up, and each leaf will begin a new stem that grows out from the main stem. As that stem grows bigger, another small leaf will form at the juncture of the main stem and the side stem. That new leaf is a 'sucker'. It too will grow into a new stem. This will happen at every stem juncture, for the entire early growing season. Basically, you end up with a bush that has multiple large stems. 'Suckering' is removing that extra leaf before it has a chance to grow into a new stem. This way, you keep one main stem at the center of the plant, and all side stems are limited to just one on each side of the main as you go up. Since you prevent the plant from putting effort into all that green stuff, it puts more effort into fruiting. As a gardener, you want the fruit, so suckering means you get bigger tomatoes when you sucker for the first 6 to 8 weeks of growth . After that it usually isn't worth continuing, since most of the plant growth will go into producing fruit (there may be a small drop in number, but their greater size will more than make up for it).
---
What does all this mean? Well, usually we don't bother to sucker cherry tomatoes that we plant, because they are supposed to be small, and the plants just grow too fast to bother with the work of suckering them. However, last year mom forgot which plants were cherry and which were regular tomatoes in a small section, and suckered one row of the cherry tomato plants, while leaving the others to grow out. So we had a natural experiment. All the cherry tomatoes were in the same area, they all got basically the same water and sun, and we harvested tomatoes from both plants. Here is a picture I took comparing them side by side. Remember, these are the same type of cherry tomato, the only difference is that one set of plants were suckered, and the others were not.
---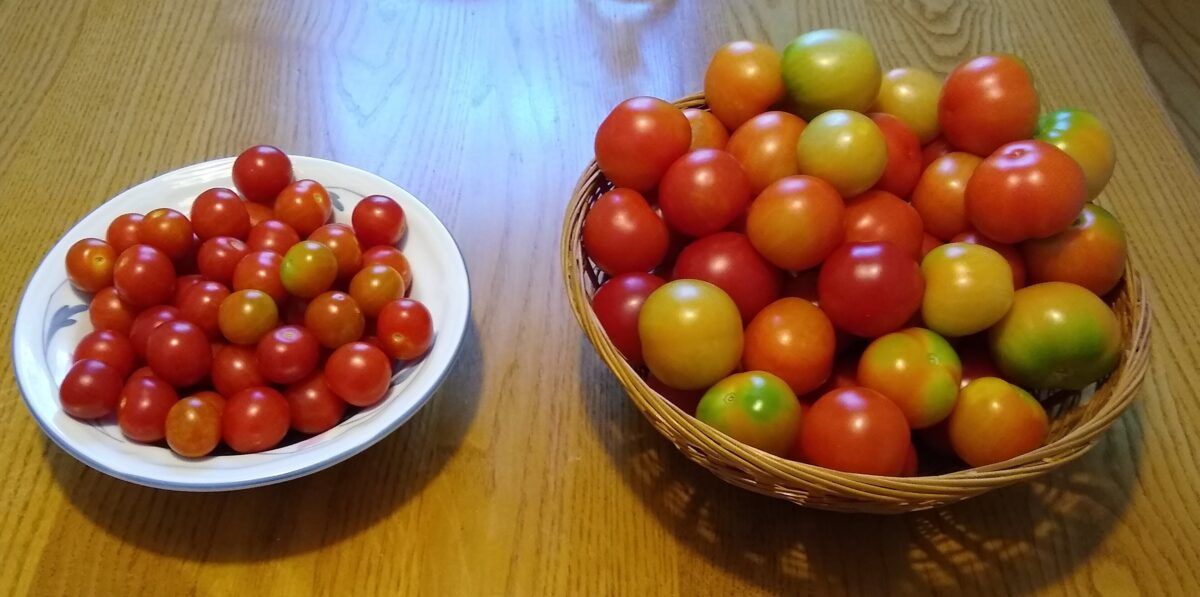 Want to guess which is which?